Grand Cash 4 Junk Cars 773-410-2135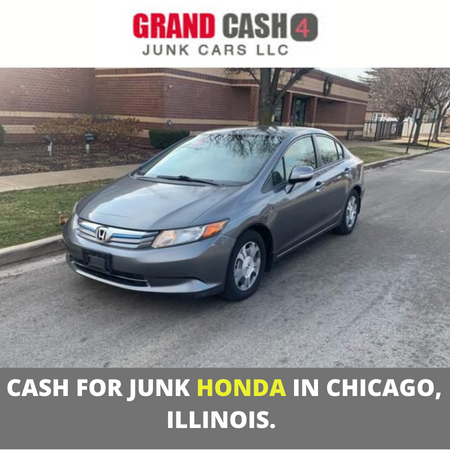 If you have a junk Honda in Chicago and you're looking to get rid of it, then Grand Cash 4 Junk Cars is the way to go.
We offer fast and reliable service so that you can get the most out of your unwanted car.
Our team will not only provide top-notch customer service but also pay you top dollar for your vehicle.
We buy all types of vehicles, including SUVs, trucks, vans, and cars, regardless of their condition, even if they are damaged, non-operational, wrecked or totaled.
Plus, we'll even pick-up your car for free!
So don't wait any longer – call us today and let us help you turn your junk Honda into cash!
Honda Motor Company – Automobile company.
Honda Motor Company is one of the world's largest and most influential automakers. Founded in 1948, it has grown to become a leader in the development of reliable vehicles.
Honda has employed cutting-edge engineering and innovative design to produce vehicles that are fuel efficient, comfortable and offer great value to consumers.
It has created a range of transports from motorcycles to off-road vehicles and passenger cars, each designed to last and perform with high operability.
The company's lineup of vehicles offers something for everyone from practical sedans to high powered sports cars.
Some of their more popular models include the Accord, Civic, CR-V, and Odyssey.
Focused on safety, quality and sustainability, they remain at the forefront of innovation in a constantly evolving industry.
Where to sell a broken-down car for cash in Chicago?
If you need to sell your broken-down car for cash in Chicago, Grand Cash 4 Junk Cars is the place to go. We specialize in buying old, broken-down cars for top dollar.
Our team of experienced professionals will ensure that you get the most out of your vehicle – no matter what its condition may be.
Follow these easy steps:
1. Get a free quote by phone or online.
To get the most accurate quote for your vehicle, give us a call at (773) 410-2135 or fill out the form on our website.
Please include important details, such as its year, make, model and mileage as well as its condition when you reach out to us.
By having this information, we'll offer you the best free quote for your car.
2. Accept the offer and schedule the pick-up.
Once you accept the quote, we'll schedule a time and place for the pick-up service.
3. Get rid of the junk car in no time!
We'll come to your location and pick-up your car free of charge. We'll also pay you cash on the spot when we arrive at your site.
Selling your broken-down car for cash with us is easy and fast – you can get rid of it on the same day!
What documents are required to get cash for your used car?
In order to get cash for your used car, you need to have the following documents:
The title of ownership.
Registration of the car.
Proof of insurance.
Your driver license.
These will be needed for us to properly process your payment and remove your vehicle from your possession.
Is it possible to get rid of a junk Honda with no title?
Yes, it is possible to get rid of a junk Honda with no title.
However, you may need to submit additional documents to prove your ownership of the car prior to selling it. This includes the car's registration, proof of insurance, and your driver license.
We will also provide you with all the necessary paperwork for transferring ownership of the car if needed.
How much is your old car value near Illinois?
The average value for old cars in Illinois is between $50 and $3000. The value of your old car near Illinois depends on various factors such as its make, model, year, mileage, missing parts, and condition.
We strive to provide competitive rates and top dollar for junk cars in the area.
Our team of professionals are always available to give you a free quote and help you sell your car quickly and easily. Call us now!
How to know when it's time to get rid of your car?
When your car has reached a certain age, it may be time to get rid of it. Some signs that indicate you should consider getting rid of your car include:
High repair costs – If you are spending more money on repairs than the value of the car itself, it's likely time to give up and find a new vehicle.
Excessive wear and tear – If you notice large amounts of rust or other physical damage to your car, this can significantly reduce its value and make it unsafe to drive.
Poor gas mileage – Older cars tend to have worse fuel efficiency compared to newer models. This means that you could end up spending more money on fuel than necessary.
Safety hazards – If your car is not up to date with safety regulations, it may be a hazard and should be replaced.
High mileage: If your car's odometer is close to or has exceeded its recommended lifespan, it may be time for you to consider finding a new vehicle.
If any of these apply, it may be in your best interest to sell your and get cash for it, don't hesitate to reach out to us for a free quote.
We'll be happy to help you sell your old car so that you can start enjoying the benefits of having a new one!
We are ready to give you an offer today!
Selling your old car for cash doesn't have to be a difficult process. With the right documents, you can get rid of it quickly and easily with us!
We are dedicated to providing high offers and top dollar for junk cars in Illinois so that you can get the best value from your car sale.
Whether you have a luxury sedan, SUV, or coupe we will make sure you get top dollar for your car.
We pay cash for all Honda models, including the following:
Honda S500
Honda S600
Honda S800
Honda Crossroad
Honda CR-Z
Honda Civic
Honda Prelude
Honda CRX
Call us (773) 410-2135 today to learn more about how to sell your used car!