Grand Cash 4 Junk Cars 773-410-2135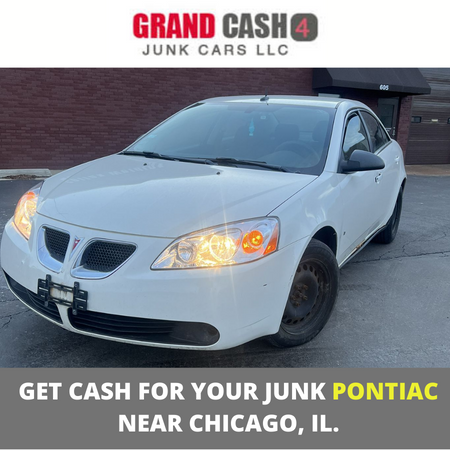 If you're trying to sell your junk Pontiac for cash near Chicago, you should try our Cash for Cars services!
This service is the premier resource when it comes to getting cash for your junk Pontiac in or near Chicago, IL.
We offer convenient pick-up service and competitive prices – all you have to do is give us a call!
Our team of experienced professionals will guide you through the entire process, from appraisal to removal.
No matter what model or condition, whether it's an older Grand Am or a newer G6, we can help you get top dollar for your junk Pontiac.
With our best junk car removal service, we make it easy and hassle free.
So, if you want cash for your junk Pontiac near Chicago, IL, look no further than us!
Pontiac Motor Division of General Motors – Automobile brand.
Pontiac Motor Division of General Motors was founded in 1926 and quickly established a name for itself as one of America's premier automobile brands.
Pontiac began by pioneering innovative safety designs, such as their 'safety plate glass', which allowed passengers to ride smoothly and securely.
As the brand evolved, Pontiac proudly offered reliable performance with classic American style – providing premium features on most models with minimal extra cost.
It is closely associated with the muscular design of classic American muscle cars like the GTO Judge, as well as modern favorites like the G8 and G6.
From the spirited Grand Prix and Firebird to the powerful Trans Am, all of the vehicles produced by Pontiac exemplified power and prestige.
In 2010, GM announced it was discontinuing Pontiac with an official close of operations in October 2010.
Who pays cash on the spot for old cars in Chicago?
If you're looking for a reliable and convenient way to get cash on the spot for your old car in Chicago, look no further than Grand Cash 4 Junk Cars.
We are professional junk car buyers that pay cash for all types of vehicles, including junk Pontiacs.
We buy cars, trucks, vans, SUVs, and even motorcycles! Our experienced team will provide a fast and accurate appraisal for your car, ensuring you get the most money possible.
We guarantee the highest offers for old cars in Chicago, no other junk car buyer will give you the prices we offer.
Plus, our free pick-up services are available throughout the greater Chicagoland area – so we can come directly to you!
With us, you don't have to worry about posting ads, dealing with haggling buyers, getting low prices, or transporting your junk car by yourself – just contact us and you'll be sure to get the most money on the spot!
How does Cash for Cars service work?
Our Cash for Cars services are simple and quick. All you need to do is follow these steps:
1. Contact us and get an offer.
First, call us at (773) 410-2135 or fill out our online form on the website to get an offer. You'll need to provide us with some basic information about your vehicle such as make, model, year, and condition.
We'll use this information to give you the best price for your car.
2. Accept the offer and schedule the pickup.
Once you accept our offer, we can typically arrange pick up of your vehicle on the same day.
3. Get paid!
Upon arrival at the pickup location, we will inspect your car and provide you with payment in cash immediately.
Then we will safely tow away your junk Pontiac for free – it doesn't get any easier than that!
With this service, you'll get quick cash without having to worry about a thing – call us right away!
What documents do you need to sell your used car?
When selling your used car, it's important to have the right documents ready.
The documents you'll need include:
The vehicle title.
Your driver's license
Proof of insurance
Your current registration.
Once you have these documents in hand, you are ready to sell your car! If you don't have them all or can't find them, no worries – we can still help.
Just give us a call and let us know what paperwork is missing. We may be able to work something out for you.
Can you get rid of a junk car without its title?
Yes, you can! We're a licensed junk car buyer and we don't require titles to buy your old Pontiac.
We understand that it can be hard to keep track of all the paperwork associated with selling a used car – particularly if you've owned it for many years.
So don't worry, we can still offer a competitive price for your vehicle even without the title!
To authenticate that you are the legal owner, present your driver license, insurance documents, and vehicle registration.
If you have any questions or need more information, please feel free to contact us.
How much is your wrecked car's value?
The average value of wrecked, used, old, and junk cars in Chicago is from $50 to $3000. However, the value of a wrecked car depends on several factors. Including:
The year, make, and model.
Mileage.
Internal and external conditions.
Location of the car.
Missing parts.
Working parts.
At our company, we offer some of the best prices for junk cars in Chicago.
Our experienced appraisers will provide an accurate assessment and offer you an unbeatable price for your car.
Call us today to get a free quote and find out how much cash you can get for your Pontiac!
Stop keeping your useless Pontiac and sell it for cash now!
Selling your old Pontiac doesn't have to be a hassle – our Cash for Cars service makes it easy.
All you need to do is contact us and get an offer, accept the offer, and we'll take care of the rest!
We guarantee competitive prices with no haggling required, plus free pick-up services throughout Chicago.
We buy any Pontiac model, including:
Pontiac Bonneville
Pontiac Catalina 421
Pontiac GTO
Pontiac Banshee I
Pontiac Chieftain Deluxe
Pontiac GTO
Pontiac Firebird 400
Plus, if you don't have all the documents or paperwork needed to sell your car, we may still be able to work something out.
Stop worrying about what to do with that useless vehicle in your driveway – let us make some money off of it today!
Call us (773) 410-2135 now for more information on how much cash you can get for your wrecked Pontiac!