Grand Cash 4 Junk Cars 773-410-2135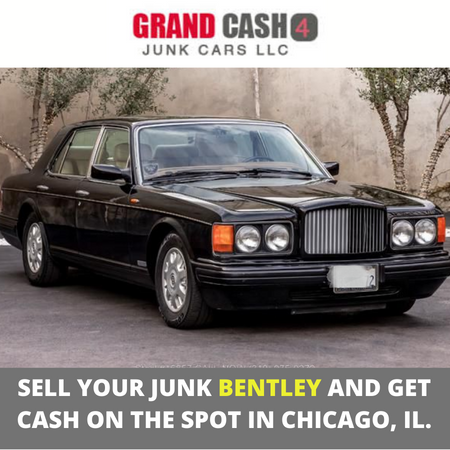 If you're in Chicago and looking to get rid of your junk Bentley, then you've come to the right place.
Here at Grand Cash 4 Junk Cars, we have many years of experience in buying used cars for the most money, so you can trust that you'll get top dollar for your unwanted vehicle.
We can provide a fast and easy solution for selling your unwanted luxury car-without having to worry about listing it or dealing with strangers.
Just contact us and we'll make you an offer on the spot for cash. Plus, we make the process easy by taking care of all paperwork from start to finish.
So what are you waiting for? Let's turn that junk Bentley into cash!
Bentley Motors Limited – Auto manufacturer.
Bentley Motors is an iconic auto manufacturer that has been around for over a century.
Founded by Walter Bentley in 1919, the company officially adopted the name Bentley in 1921 after it released its first car model, The 3 Liter.
Since then, Bentley Motors has become synonymous with luxury and quality craftsmanship. Its cars exemplify a timeless elegance that appeals to discerning customers of all generations.
From the vintage and prestigious Continental model to its generous Bentayga SUV, Bentley's vehicles represent the best of what an auto company can offer in terms of performance, looks and technology.
With its relentless attention to detail and pioneering advances in automotive design and technology, Bentley will continue to be one of the world's most sought-after cars for many years to come.
Where should you sell your old car for cash?
Selling an old car can be a tricky problem, and it can be difficult to know where to turn for help.
Fortunately, there is an easy solution for anyone looking for the best place to get cash for their vehicle: Grand Cash 4 Junk Cars!
With years of experience and unbeatable prices, we are the perfect option for anyone who wants their old car off their hands quickly and conveniently.
We make the process fast and easy – and best of all, you'll get the most cash for your old junk Bentley!
We are equipped to tow away any vehicle no matter what kind it is and will give you cash on the spot.
We offer free towing service to all of our clients in Chicago. And if you're in another city, we also go to:
South Side.
Orland Park.
Maywood.
Chicago.
Evanston.
Tinley Park.
Skokie.
Calumet.
Oak Lawn.
Cicero.
Englewood.
Dolton.
Evergreen Park.
So if you're in Chicago and looking to sell your old car for cash without any hassle, contact us today and get rid of your car!
How to sell your damaged car for cash near Chicago?
If you have a damaged car in the Chicago area, don't worry – we can help.
We buy all kinds of cars – even those with major mechanical damage or body damage that aren't running properly.
Our Cash for Cars service is easy and fast, follow these simple steps to get started:
1. Get a quote.
Call us at (773) 410-2135 or fill out our form on the website. Provide a basic description about your vehicle, such as the year, make, model, mileage, and condition.
Once we have this information, we'll offer you the highest quote for your old car.
2. Accept the offer.
Once you accept our offer, we'll schedule a pickup time on the same day.
3. Get your cash!
On the day of the pickup, one of our friendly tow truck drivers will arrive and give you cash on the spot for your vehicle.
We understand that selling an old or damaged car can be stressful but we are here to make it easier.
With our fast, easy and convenient Cash for Cars service, you can sell your junk Bentley quickly and easily and get top money for it.
Contact us for more information.
How much is your non-running value in Illinois?
The value of your non-running vehicle depends on a number of factors. Including:
The year, make, and model.
Mileage.
External and internal conditions.
Location of the car.
Extent of damage.
We also consider the average price for used vehicles in Illinois. It's from $100 to $3000.
At our company, we will appraise the value of your car based on these factors and offer you cash for it in Illinois.
What paperwork is required to get cash for your car?
In order to complete the selling of your car, you will need to provide us with some paperwork.
The paperwork may vary depending on the state in which you sell your car, but generally speaking, these documents must be presented:
Title of ownership.
Registration documents.
Proof of insurance.
Identification, such as a driver's license.
Once we have gathered all this paperwork and verified that it is accurate and up to date, we can go ahead with the transaction and you'll get cash for your old Bentley!
Can you sell your used car without its title?
Yes, you can sell your used car without its title.
However, it is important to note that the process may be a bit more difficult and there will likely be some form of paperwork required in order for the sale to proceed.
At our company, we can still offer you a great price, even if you don't have the title .
We just require proof of ownership (registration of the car, proof of insurance) and identification to complete the sale.
Once all required documents are presented, we will provide cash for your old Bentley right away!
Get rid of your junk Bentley for the most money!
Selling your damaged or old car for cash doesn't have to be a hassle. With our Cash for Cars service, you can get rid of your junk Bentley quickly and easily with the most money possible.
We make it simple by providing fast and easy transactions – just call us or fill out our form online, accept our offer, and we will give you cash on the spot!
Our team is equipped to tow any vehicle regardless of its condition in Chicago as well as other cities in Illinois.
We pay cash for any Bentley model, including:
Bentley Arnage
Bentley Hunaudieres
Bentley State Limousine
Bentley Continental
Bentley Flying Spur
Bentley Brooklands
Bentley Bentayga
So if you're looking for the best price for your old or damaged Bentley in Illinois, contact us (773) 410-2135 today to get started.