Grand Cash 4 Junk Cars 773-410-2135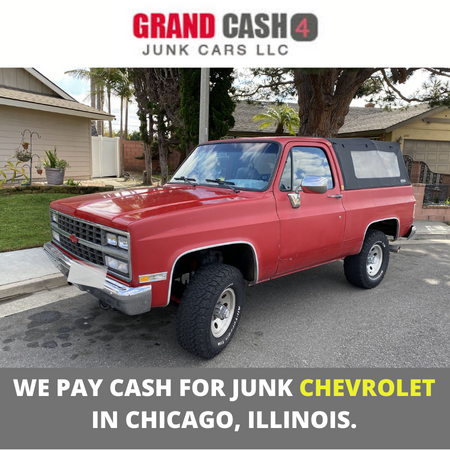 Are you trying to get rid of your junk Chevrolet and get cash in the process? Call Grand Cash 4 Junk Cars today and use our Cash for Cars service!
We're the best junk car buyer in Chicago and we offer top dollar for cars, trucks, SUVs, and vans in any condition.
No matter if your car is damaged or old, we'll buy it and you'll get cash on the spot!
Our team of experienced professionals will make sure the process is fast and easy.
We offer free towing, so you don't have to worry about transporting the vehicle yourself.
Whether you're looking to get rid of an old junk car or just want some extra cash, we can help! Contact us today and let us buy your Chevrolet.
Chevrolet – Automobile manufacturer.
Chevrolet is a renowned auto manufacturer that has been producing quality vehicles for over 100 years.
Founded in 1911, Chevrolet quickly established itself as one of the top vehicle makers, crafting cars and trucks that are reliable, innovative, and stylish.
From the first Chevy manufactured in 1911, to its lineup of innovative and efficient models today, Chevrolet provides drivers with the vehicle they need and the reliability that comes with it.
Chevrolet has cars and SUVs that cover a complete range, from subcompact commuters to full-size luxury vehicles, providing solutions for a variety of lifestyles and needs.
Some of their most popular models include the Camaro, Malibu, Tahoe, Impala and Silverado.
The dependability of these vehicles make them a reliable option for commuters, families, and people who need a little bit of extra space
Chevrolet provides quality cars that can last for years and miles with minimal maintenance.
Where is the best Cash for Cars service near Chicago?
If you're looking for a reliable Cash for Cars service in Chicago, look no further than Grand Cash 4 Junk Cars!
We specialize in buying all kinds of vehicles, from cars and trucks to SUVs and vans. We offer top dollar for junk Chevrolet cars, so you can get the most money out of your clunker.
Plus, we provide free towing service with every transaction!
Best of all, the entire process takes just a few simple steps – simply fill out their short form online or call their number and get a free quote within minutes.
We also serve at:
South Side.
Orland Park.
Maywood.
Chicago.
Evanston.
Tinley Park.
Skokie.
Calumet.
Oak Lawn.
Cicero.
Englewood.
Dolton.
Evergreen Park.
We're renowned for providing excellent customer service with fast and efficient car removals in Chicago and nearby cities. Including:
Contact us today and let us buy your Chevrolet!
How to get cash for your old car?
We're the best place for you to get cash for your old car in Chicago, Illinois.
Whether your car is in pristine condition or has seen better days, we are more than happy to buy it from you and pay the most cash on the spot.
To get started just follow these easy steps:
1. Get a free quote.
Call us at (773) 410-2135 or fill out the form of our website, provide basic information about your vehicle, such as the year, make, model, mileage, and condition.
Once we have this information, we'll provide the highest offer for your car.
2. Schedule the pick-up.
Once you accept our offer, we'll make arrangements for the car to be picked up at a time that works best for you.
3. Get paid.
When the tow truck arrives, just hand over your keys and documents and get cash on the spot! It's that easy.
Say goodbye to your old car and enjoy having some extra cash in your pocket! Plus, no more worrying about repairs or maintenance costs – it's all taken care of.
So what are you waiting for? Call us today and get a free quote for your old Chevrolet.
What documents do you need to sell a junk car?
To sell your car in Chicago, you must have the following documents:
• Title of Vehicle – This document proves that you are the owner of the vehicle.
• Vehicle Registration – This document shows that the vehicle is legally registered to drive on roads in Illinois.
• Proof of Insurance – All vehicles in Illinois must be insured before it can be driven on public roads.
• Valid Driver's License – You need to provide a valid driver's license prior to completing the sale transaction.
Having all these documents ready will make the sale of your car faster and smoother.
Do we accept used cars without their titles in Chicago?
Yes, we accept! However, we need to make sure that all the documents are valid and include proper ownership information before we can buy your car.
Make sure to provide proof of insurance, your driver license, and registration of the car.
Once you have all the necessary paperwork, feel free to reach out to us so we can help you get cash for your old car!
How much can you get for your damaged car near Illinois?
The average price for damaged cars near Illinois is from $50 to $3000.
However, the amount of money you can get for your damaged car depends on the make, model, year, mileage, missing pieces, and condition.
At our company, we will provide a fair price for any car you have! We value our customers and strive to give them the most cash possible.
If you're looking to get rid of an old Chevrolet vehicle near Illinois, don't hesitate to contact us today and get a free quote!
Get the most money for your old Chevrolet today!
We make selling your car hassle-free with our free towing service, same day payment options and expert staff who can help you get the best deal for your car.
No matter what condition your Chevrolet is in or how old it is, our professional appraisers will give you an honest appraisal and offer you the best possible cash price for it.
We specialize in buying all kinds of Chevrolet cars, including sports cars like Corvettes, family haulers like Tahoes, and off-road adventurers like Trailblazers.
We pay cash for:
Chevrolet Volt.
Chevrolet Corvette Stingray.
Chevrolet Camaro.
Chevrolet Tahoe.
Chevrolet Chevette.
Chevrolet Chevelle SS 454.
Chevrolet Silverado.
Chevrolet Corvette.
And more!
We'll give you cash on the spot and take that clunker off your hands quickly and easily. Don't wait any longer – call us at (773) 410-2135 today!