Grand Cash 4 Junk Cars 773-410-2135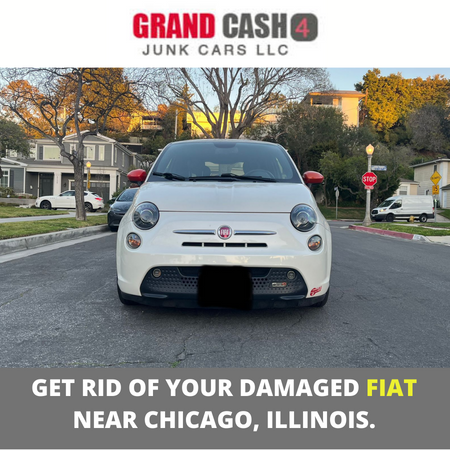 If you have a damaged Fiat in the Chicago area, there's no need to keep it around. Sell it for cash to Grand Cash 4 Junk Cars.
We're a reliable junk car buyer in Chicago and we offer free removal of your vehicle quickly and easily.
Whether it is an older model or the most current one, you'll get the highest offer for your old car and pick it up on the same day. Our team will make sure you get the best deal possible.
We also take care of all the paperwork so you can rest easy knowing that everything is taken care of professionally and legally. And we even provide free towing service!
Call us today and get rid of your junk car fast!
Fiat – Automobile manufacturer.
Established in Italy in 1899, Fiat has grown to become one of the world's premier automobile manufacturers.
Providing excellent quality cars and trucks that cater to a variety of needs, they offer an excellent selection of vehicles ranging from small city cars to full-size luxury SUVs.
Fiat has built their reputation as a world-renowned automaker by producing dependable, high-quality vehicles.
As an Italian brand with a flair for engineering and design, Fiat embodies the most stylish elements of traditional Italian craftsmanship while also integrating modern technology into their vehicles.
Their most beloved models from recent years include the 500L, a hatchback with all the style of an Italian design standard wrapped into a five-seater; the 124 Spider Abarth, Fiat's tribute to classic muscle cars; and the 500X, an all-electric SUV perfect for family adventures.
Fiat offers consumers from all walks of life access to reliable and attractive models at competitive prices that function perfectly for any lifestyle.
Who is the best junk car buyer near Chicago?
If you're looking for the best junk car buyer near Chicago, then look no further than Grand Cash 4 Junk Cars.
We are a trusted junk car buyer offering the best Cash for Car services as well as competitive prices for your old car.
With our experienced team, you'll be sure to get top dollar for your vehicle. No other junk car buyer or junkyard will give you a good cash price for your Fiat like we will.
Our process is simple, safe and efficient – no matter what the condition of your vehicle, we guarantee that you will get rid of it quickly and get the most money for it.
We also provide free towing services and take care of all the paperwork quickly and professionally.
And if you're located in another city, we can go to these following cities:
South Side.
Orland Park.
Maywood.
Chicago.
Evanston.
Tinley Park.
Skokie.
Calumet.
Oak Lawn.
Cicero.
Englewood.
Dolton.
Evergreen Park.
We're here to help you find the best Cash for Car deals while providing you with outstanding service. Give us a call today to get rid of your junk car fast!
What's the easiest and fastest way to get cash for a used car?
The easiest and fastest way to get cash for a used car is by selling it.
We offer a straightforward, hassle-free process that allows you to conveniently sell your vehicle from the comfort of your own home.
Follow these steps to get started:
1. Get an offer by phone or online.
Call us at (773) 410-2135 or fill out our online form, and provide some information about the vehicle, including the year, make, model, mileage, and condition.
By having these details, we'll give you the best offer for your car.
2. Arrange the pick-up.
Once you accept our offer, we'll set up a time and date for the pick-up. Our team will come to your location with all the necessary paperwork and payment in hand.
3. Get paid.
We'll inspect your car and take care of the paperwork. And once everything is done, you'll get paid on the spot!
And that's it! We make it easy for you to get cash quickly for used cars. So don't wait – contact us today and start earning money from your old vehicle!
What documents do we need to buy your junk car?
When selling a junk car, you will need to provide the following documents:
Title of Ownership. This document should be in your name and it must show that you are the owner of the vehicle.
Proof of Identity. To verify your identity, we require valid government-issued identification such as a driver's license or passport.
Registration Certificate (also known as registration plates). Depending on where you live, you may need to provide us with proof that the vehicle is registered in your name before selling it.
Proof of insurance. In some cases, you may need to give us the proof of insurance on the vehicle.
These documents are necessary for us to legally buy your junk car and transfer the ownership to our name.
If you have any questions about what documents you need, don't hesitate to reach out and ask!
Can you sell an old car without its title?
Yes, you can still sell your old car without its title. However, it's important to note that you must prove that you're the owner of the car.
Make sure to provide registration of the car, proof of insurance, and your driver license. Then, we'll be able to buy it for cash without any problems.
How much is your damaged car value in Chicago?
The average value for a damaged car in Chicago is between $50 and $3000.
The value of your damaged car in Chicago will depend on many factors, such as the year, make, model, mileage, missing parts, condition.
We offer competitive quotes for used cars regardless of their condition. We will assess your vehicle's value to give you an accurate quote that reflects its true worth.
Contact us today to get a free estimate or request an online evaluation.
Get started today and turn your used car into cash!
Selling your used car doesn't have to be complicated or time consuming.
With our service you can turn your old vehicle into cash quickly and easily.
Our team will come to you with all the necessary paperwork and payment in hand so you get paid on the spot!
We pay the most money for all Fiat models, including:
Fiat 500
Fiat Multipla
Fiat Uno
Fiat Panda
Fiat Barchetta
Fiat 500
Fiat 126
Fiat Dino
All we need from you is some basic information about the car as well as essential documents like title of ownership, proof of identity, registration certificate, and proof of insurance.
Call us (773) 410-2135 now and get top dollar for your old Fiat.