Grand Cash 4 Junk Cars 773-410-2135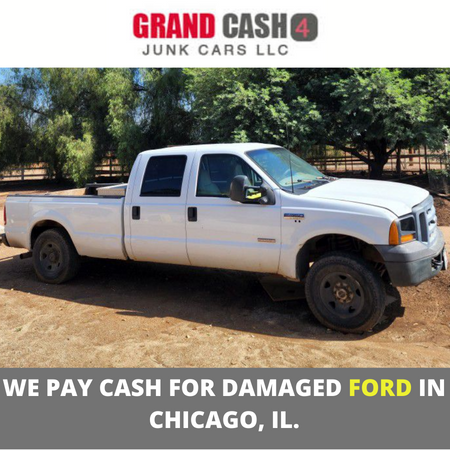 Looking for someone who pays cash for damaged Ford cars in Chicago? Look no further! Grand Cash 4 Junk Cars is your best option!
We're one of the most recognized junk car buyers in this city, and we buy all makes and models of Ford cars, whether they are running or not.
We have an experienced team of car buying experts who will make sure you get the most out of your car sale.
We also provide free towing services so you don't have to worry about towing your damaged car away yourself.
Plus, we're committed to providing you with top-notch customer service and fast payment for your Ford vehicle.
To get started, simply call us today or fill out our online form!
Ford Motor Company – Automobile manufacturer.
Ford Motor Company is an American multinational automaker headquartered in Dearborn, Michigan, a suburb of Detroit.
It was founded by Henry Ford and incorporated on June 16, 1903. The company sells automobiles and commercial vehicles under the Ford brand and most luxury cars under the Lincoln brand.
Ford was one of the first companies to offer an affordable car for the masses with the Model T and they continue to be at the forefront of new technologies with their EcoBoost engine.
The three most popular models made by Ford are the F-150, the Mustang, and the Escape. Each one has its own unique features that make it appealing to different types of drivers.
Its fleet of vehicles ranges from SUVs, small cars, transport vans, trucks and even electric cars.
It remains one of the largest and most powerful car companies in the world, continuing to make exceptional vehicles while also pioneering new technologies such as electric cars and autonomous driving technology.
Where should you sell your junk car near Chicago?
If you are looking for the best place to sell your junk car near Chicago, call Grand Cash 4 Junk Cars today.
We have been buying cars in this area for years and our experienced team will make sure you get top dollar for your vehicle.
We accept all makes and models of vehicles regardless of their condition, so you don't have to worry about whether or not we take your car.
We often pay cash for old, damaged, junk, non-running, and even totaled cars. We buy SUVs, vans, trucks, vans, and cars.
And since we provide free towing services, you won't have to spend any extra money on having it removed from your property.
We offer not only high prices for your junk car, but also the convenience of fast and reliable service.
And if you're in another city, we also serve in:
South Side.
Orland Park.
Maywood.
Chicago.
Evanston.
Tinley Park.
Skokie.
Calumet.
Oak Lawn.
Cicero.
Englewood.
Dolton.
Evergreen Park.
Plus, our payment process is fast and reliable so you can be sure that you will get paid right away. Contact us now to learn more about our services!
How to get rid of old cars for cash in Illinois?
If you want to get rid of an old car for cash in Illinois, try our Cash for Cars service at Grand Cash 4 Junk Cars.
We offer one of the most efficient ways to get rid of your vehicle in Illinois and our rates for old cars are some of the highest you can find.
Start the process by following these steps:
1. Contact us and get a quote.
Call us at (773) 410-2135 or fill out the form on our website, and provide essential information about your car, such as the year, make, model, mileage, and condition.
By having this information, we'll provide the best quote for your car.
2. Accept the offer and schedule the pick-up.
Once you accept our offer, we'll arrange the pick-up of your car and provide free towing services.
3. Get your cash payment.
We will pay cash for your vehicle at the time of pick-up.
And it's done! We provide the most reliable services for junk car removal in Illinois, and our experienced team will make sure you get top dollar for your old car.
Call us right away and get rid of your old car quickly with no hassle!
How much can you get paid for your junk Ford?
The average price for junk cars in Chicago is from $50 and $3000. The amount of money you can get paid for your junk Ford will depend on factors. For example
The year, make, and model.
Internal and external conditions.
Mileage.
Missing parts.
Location of the car.
We'll guarantee the highest price for your junk Ford!
What paperwork do you need to sell a used car?
When selling a used car, there are certain documents that you need to provide to the buyer.
The specific paperwork may vary depending on your state, but here is a list of some of the common documents you'll need:
• Title of the car.
• Registration of the car.
• Your driver license
• Proof of insurance.
By having all these documents in place before selling your used car, you can ensure that everything goes smoothly and without problems during the transaction process.
Can you sell an old car without the title?
Yes, you can! It is possible to sell an old car without the title, but it will depend on a few factors.
If you own your vehicle outright and have all the necessary paperwork, then all you need to do
is to prove ownership.
Provide the proof of insurance, your driver license, and your car's registration. This way, we'll be able to pay cash for your vehicle.
Ready to get cash for your non-running Ford? Call us now!
Selling an old car can be a long and complicated process, but with Grand Cash 4 Junk Cars it doesn't have to be.
We make the entire process simple and quick by providing top dollar for junk cars in Illinois, free towing services, fast payment processing, and no need for paperwork.
With our help, you can sell your old car without any stress or worry about getting the most out of it.
No matter if your car is totaled or not running, we'll give you the best offer. We buy any Ford model, including:
Ford Abeille
Ford Anglia
Ford Aspire
Ford B-Max
Ford Capri
Ford 021C
Ford 24.7 Coupe
Ford 24.7 Pickup
Ford 24.7 Wagon
Contact us (773) 410-2135 today and let us provide you with an unbeatable quote