Grand Cash 4 Junk Cars 773-410-2135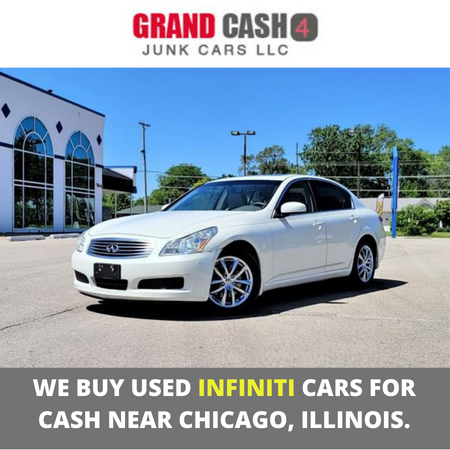 If you're trying to sell your old car in Chicago, Grand Cash 4 Junk Cars will buy your used Infiniti for cash today!
We are always looking for people who want to sell their used Infiniti car at a great price. We provide quality customer service and make sure you get the best value for your used car.
Our team of junk car buyers has years of experience in the auto industry, so we know how to offer a good deal on your vehicle.
We pay cash for junk, old, used, damaged, and even totaled cars. And we accept any type of vehicle, including trucks, SUVs, and vans.
And we even provide free towing service!
Contact us today to learn more about our services and how much cash we can give you for your used Infiniti car near Chicago, Illinois.
Infiniti Motor Company – Luxury vehicles company.
Infiniti Motor Company has been providing luxurious vehicles since 1989, when they first introduced the Infiniti Q45.
With its commitment to quality and innovative design, the company has gone from strength to strength over time, building a line of luxury cars that have consistently ranked amongst the top performance vehicles in the world.
The G Sedan range offers drivers options such as the G25, G35 and G37, with each providing drivers quick acceleration and superb handling in a stylish package.
Meanwhile, SUV lovers can choose from the QX50 and QX60 which deliver agile performance paired with an impressive array of features.
Every Infiniti car comes with a range of technologies, from driver assistance systems to connected navigation and entertainment capabilities that offer maximum enjoyment for every drive.
Where is the best junk car removal in Chicago?
Grand Cash 4 Junk Cars offers quick and easy junk car removal services in Chicago.
We will buy your used, damaged or totaled vehicle and provide you with cash on the spot without any hassles.
We are a licensed and insured business that puts customer service first. We offer the highest offers for any type of cars in any condition.
When you contact us, our team of experts will evaluate the condition of your vehicle and calculate a fair price based on its value. Just accept our offer and we'll take care of everything.
Our professional junk car buyers will handle all the paperwork while you get cash quickly for your vehicle.
We pay cash for junk cars and other unwanted vehicles in the Chicago area. However, if you're in another city, we can also go to:
South Side.
Orland Park.
Maywood.
Chicago.
Evanston.
Tinley Park.
Skokie.
Calumet.
Oak Lawn.
Cicero.
Englewood.
Dolton.
Evergreen Park.
If you need to sell a car fast in Chicago, contact us today and let us help you get a great deal on your used Infiniti car!
What to do with a car that doesn't run anymore?
If your vehicle is not running and you are wondering what to do with it, we can help. We will buy any make and model of car that isn't running for cash near Chicago, Illinois.
No matter how old or new the vehicle is, we will provide you with a great offer for it.
All you have to do is follow these steps:
1. Get a free quote.
Contact us by phone (773) 410-2135 or online with details about your car's year, make, model, mileage, and condition. Then, we'll give you a free quote for your vehicle.
2. Accept the offer and schedule.
If you accept our offer, we will schedule a convenient time for us to pick up your car and give you the cash.
3. Get paid.
We'll come to your location with all the necessary paperwork, tools and equipment to tow away your vehicle, and provide you with cash on the spot.
You don't have to worry about anything else – just sit back and relax while we do all the work.
Get in touch today if you want to get rid of an old car that doesn't run anymore. Contact us for a quick and easy junk car removal!
How much do we offer for a damaged Infiniti?
The average price for damaged cars is from $50 to $3000. However, the amount of money we offer for damaged Infiniti vehicles near Chicago depends on many factors. This includes:
The year, make, and model.
Mileage.
Internal and external conditions.
Location of the car.
Missing parts.
Whether the car runs or not.
Our offers are always fair and honest – and in many cases, much higher than most other junk car buyers in the area.
What documents do you need to get cash for your old car?
To get cash on the spot for your old car, you will need to provide us with the following documents:
1. The vehicle title.
2. Your valid driver's license or state-issued ID.
3. Proof of insurance.
4. Registration of the car.
With these documents in hand, our team of junk car buyers will evaluate your car and provide you with a fair offer for it – no matter what condition it is in! Contact us today to get started selling your Infiniti!
Do we pay cash for used cars without their titles?
Yes, we do!
We understand that in some cases it can be difficult to get the title of your car – and that's why we are here to help.
Just contact us with a valid driver's license, car's registration, and proof of insurance for the vehicle, and our team will provide you with an offer for your car without any issues.
We guarantee fast cash on the spot when we come to pick up your vehicle!
Get rid of your totaled car and get the most cash for it!
Selling your totaled car doesn't have to be a hassle. With our team of professional junk car buyers in Chicago, you can get cash quickly and easily for any make or model Infiniti vehicle, even if it's not running!
All you need is the proper documents like the title, registration, proof of insurance, and valid driver's license.
We will handle all paperwork while providing you with fast cash payments on the spot when we come to pick up your vehicle.
So don't wait, call us (773) 410-2135 today and let us help you get rid of that old car without its title so you can start getting more money out of it!