Grand Cash 4 Junk Cars 773-410-2135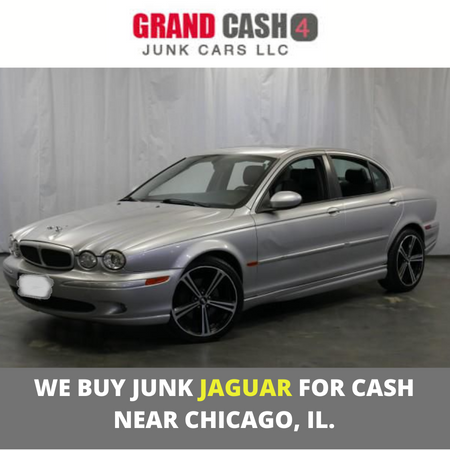 Did you know that Grand Cash 4 Junk Cars buys junk Jaguar for cash near Chicago? We pay top dollar for your used or junk vehicles in Illinois.
We're reliable junk car buyers that pay the most cash on the spot for any type of car.
Our professional buyers specialize in buying everything from classic to modern Jaguar models, all at an excellent price.
Whether you have an old XE sedan or a newer F-Type coupe, we can take it off your hands and get you cash on the spot!
We offer you the best deals that no other buyer can provide you with. We even provide free towing service!
Call us now and learn more about our services.
Jaguar Cars – Luxury vehicles company.
Jaguar Cars is a luxury vehicle company that has been producing sleek, high-performance cars since the 1920s.
With over a hundred years of experience and cutting-edge technology, they are one of the most renowned automakers in the world.
Jaguars stand out with their beautiful design and powerful performance, ideal for those looking to make a statement on the road.
Elegantly designed interiors and exteriors, combined with advanced technology, sets Jaguar Cars apart from their competitors.
From sedans to sports cars and SUVs, owning a Jaguar is a far more luxurious experience than any other vehicle.
Their innovative engine systems ensure maximum power and efficiency while maintaining stringent standards for safety and reliability.
From their classic XK models to their cutting edge I-Pace electric vehicles, Jaguar Cars will continue to strive for excellence by providing drivers with top of the line luxury driving experiences.
Who is the best junk car buyer to sell your old car?
Grand Cash 4 Junk Cars is the best junk car buyer to sell your old Jaguar in or near Chicago.
We are an experienced and reputable company that pays top dollar for any type of cars, used or not.
We provide free pick up service within the same day and can even tow away your vehicle for free.
When you do business with us, you know that you're getting the most money for your car with a secure and reliable transaction.
Plus, we offer competitive rates so you don't have to worry about receiving less cash than other companies may offer.
So what are you waiting for? Contact us today and start making money from your old Jaguar!
What's the best way to sell your damaged car for cash?
The best way to sell a damaged car for cash is by working with an experienced junk car buyer.
Our friendly team is always standing by to provide you with the best service possible.
Follow these easy steps to get started:
1. Get an offer.
Give us a call (773) 410-2135 or fill out our online form on the website to get a fast offer. We simply require your car's information, such as the year, make, model, mileage, and its overall condition.
Now that we have the necessary details, it's time to give you our most attractive offer for your vehicle!
2. Schedule the pick-up service.
Once you accept the offer, we'll send out a tow truck to pick up your car at a time that is convenient for you.
Our friendly drivers will show up on-time and handle everything with care before taking your car away.
3. Get cash on the spot.
When our driver arrives at the pickup location, they will pay you in cash right away. That's it!
It's really that simple and straightforward to sell a damaged or used Jaguar for cash near Chicago with us. So don't wait any longer – call us today and get started!
How much is your old car value in Chicago?
The value of your old car depends on several factors, including:
Year, make, and model.
Location of the car.
Internal and external conditions.
Mileage.
Whether the car runs or not.
Missing parts.
Working parts
We evaluate each vehicle's condition before providing a fair offer that can range from $100 to up to $3000 (or more!) – depending on the car's age and condition.
So the best way for you to get an accurate estimate is by contacting us directly so we can give you an exact quote for your Jaguar. Give us a call now!
What documents do you need to get rid of your used car?
In order to get rid of a used car with us, you will need the following documents:
Proof of insurance.
Valid driver's license
Car's registration.
The title of your car.
Once we have all the documents mentioned above and have inspected your vehicle, we can provide you with an offer and proceed with the sale.
Can you sell an old Jaguar without its title?
Yes, you can sell an old Jaguar without its title.
However, the process is slightly different than when you have the title. We will need to prove that you're the owner of the car.
You'll need to provide us with your valid driver's license and a copy of your car's registration along with proof of insurance as well.
This way, we'll be able to pay you the most money for your car without the title.
What are the benefits of getting rid of a junk car for cash?
Getting rid of a junk car for cash offers many benefits, including:
Quick and easy transaction.
No need to pay for towing or repairs.
Fast payment in cash on the spot.
Free up space in your driveway or garage.
Money back into your pocket.
Environmentally friendly solution by recycling parts instead of dumping them in a landfill.
Eliminate the hassle of finding a buyer and dealing with haggling negotiations over prices.
Help you avoid paying more fees if you fail to register the car with DMV after it has been sold privately.
Call us now and get top dollar for your car!
We're the ideal choice when it comes to selling your damaged or used Jaguar near Chicago.
We can take care of all the paperwork and provide you with fast, convenient service that will get you cash for your vehicle as quickly as possible.
We accept any type of vehicle in any condition, so you don't have to worry about whether or not we'll buy it.
We pay cash for all Jaguar's models. Including:
Jaguar XF
Classic Jaguar S-Type
Jaguar XJC
Jaguar XK8
Jaguar XJR
Jaguar XK150
Jaguar XJS
Jaguar Mk2.
Plus, our friendly customer service team can guide you through the process and answer any questions that you may have.
Contact us (773) 410-2135 today and start making money from your old Jaguar!