Grand Cash 4 Junk Cars 773-410-2135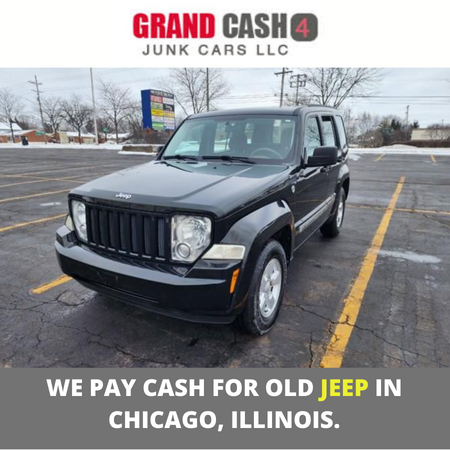 Are you looking for a junk car buyer that pays cash for old, used, and junk Jeep cars in Chicago? Look no further than Grand Cash 4 Junk Cars!
We are the leading junk car buyers in the Chicago area and we will pay you cash on the spot for your old Jeep.
We specialize in buying all kinds of Jeeps, including Wranglers, Cherokees, and Grand Cherokees.
No matter what condition your Jeep is in, we'll make sure to give you a fair price for it.
We can even pick up your Jeep from any location in the city for free! So don't hesitate to give us a call today if you want to get rid of your old Jeep fast and easily.
Jeep – Automobile make
Jeep is a renowned automotive brand with a long and illustrious history. Founded in 1941, Jeep has been providing specialized off-road capable vehicles ever since.
They have been around for decades, producing a variety of different models ranging from rugged SUVs to luxury SUVs.
These 4x4s are known around the world, using specially designed engines and suspension systems that can handle all types of terrain.
In recent years the Jeep brand has expanded to include cars such as the Renegade and Compass offering lighter vehicles with good fuel efficiency for those who don't need the off-roading capabilities of a Wrangler or Cherokee.
Best of all, the Jeep brand is widely known for its commitment to safety, giving driver's peace of mind knowing that their vehicle will protect them even if conditions turn dangerous.
Whether on or off the road, Jeep ownership is something proud drivers will enjoy for years to come.
Where is the best place to sell your junk car?
When it comes to selling your old, used, or junk car in Chicago, the best place to go is Grand Cash 4 Junk Cars.
Our convenient and reliable service makes it easy for you to get fast cash for your unwanted vehicle.
We buy all kinds of vehicles including Jeeps, no matter what condition they are in. We offer top dollar for cars, trucks, SUVs, and vans.
We guarantee to provide the highest offers possible and pick-up your vehicle free of charge.
We offer a hassle-free experience that will help you to get the most money for your old car.
We make sure that you will receive a fair price for your car and we even offer free towing service from any location in Chicago.
Just give us a call and we'll take care of the rest!
How to get rid of your used car for cash in Chicago?
Are you looking to get rid of your used car in Chicago? With us, you can easily sell your old car and get fast cash on the spot.
All you need to do is following these steps:
1. Call us or visit our website.
Contact us via phone or fill out our online quote form to receive a prompt offer. All we need are some details about your car, such as the year, make, model, mileage and overall condition of it.
With the information you've provided, we're ready to give you our best offer for your car!
2. Accept the offer and schedule a pick-up time.
Once you've received our offer, all you need to do is accept it. We will arrange a convenient pick-up time for your vehicle based on your availability.
3. Get cash on the spot.
On the day of the pickup, please have the title or registration paperwork if needed and be prepared to sign over ownership of the car to us.
You'll get your cash payment immediately and we'll tow away your car for free. With our company, selling your old car has never been easier. Contact us today to get started!
What paperwork is required to sell your used car?
In order to sell your car in Chicago, you will need to provide the required paperwork, such as:
The title of the car.
Proof of insurance.
Your driver license.
The registration of the car.
We'll make sure that all necessary paperwork is provided when we pick up your car so that everything goes smoothly and quickly.
Do we pay cash for a Jeep without its title?
Yes, we do pay cash for Jeeps even if they don't have a title. We understand that sometimes those documents are lost and we are able to work around that issue in order to give you the best price for your Jeep.
However, there may be some restrictions in this case. We'll need to verify the ownership of the car before making an offer.
You must provide your driver license, proof of insurance, and your car's registration.
Please contact us directly to get more details about this process.
How much can you get paid for your damaged car?
The average price for damaged cars in Chicago is between $50 and $3000. The amount of cash you can receive for your damaged car will depend on several factors, such as:
The year, make, and model.
Mileage.
External and internal conditions.
Missing parts.
Working parts.
Location of the car.
At our company, we offer the highest buying price possible for all makes and models.
We understand that there is no one-size-fits-all solution when it comes to determining how much a car is worth.
That's why our experienced buyers take into account the specific details about each vehicle before making an offer.
Give us a call today or fill out our online quote form to get an instant estimate for your damaged car
Call us now and get rid of your unwanted Jeep once for all!
Are you ready to get rid of your old and unwanted Jeep? Our team is here to help! We make the process of selling your Jeep fast and hassle-free.
We offer a fair price for all makes and models, and we even provide free towing services.
We accept all Jeep models, including:
Jeep Grand Cherokee
Jeep Compass
Jeep Wrangler
Jeep Patriot
Jeep Liberty
Jeep Cherokee
Jeep CJ
Jeep Comanche.
Plus, you will get cash payment on the spot when we pick up your car.
Call us (773) 410-2135 now and get rid of your old Jeep once for all!