Grand Cash 4 Junk Cars 773-410-2135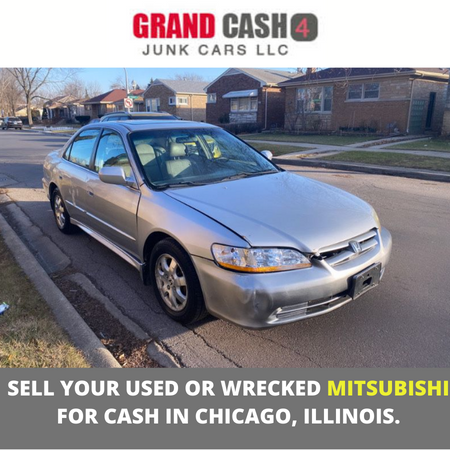 Are you looking to get rid of your old Mitsubishi in Chicago, Illinois? You don't have to worry about the hassle of selling or disposing of it yourself anymore.
We provide a fast and easy way for you to get cash for your used, damaged, or totaled Mitsubishi car.
Whether you own a Galant, Mirage G4, Eclipse Cross, Outlander Sport, Lancer Evolution X, or any other model from the Mitsubishi lineup, we want it!
We understand that many times disposed-of cars can be frustrating for owners due to their condition. That's why we make sure you get the highest cash price for your vehicle.
All you need to do is give us a call and we'll take care of everything!
Mitsubishi – Automobile manufacturer.
Established in 1970, Mitsubishi Motors is a Japanese automobile manufacturer. After World War II, its focus shifted to automobiles, where it quickly gained popularity due to its innovative designs and excellent craftsmanship.
Although Mitsubishi is most famous for its reliable and rugged cars, in recent years it has also developed SUVs, crossovers and pickup trucks.
All Mitsubishi vehicles are known for their low fuel consumption, and their superior engineering helps them outlast most competitors on the market.
Among its most popular models worldwide is the Montero Sport which emphasizes durability and reliability.
The Outlander also known for its advanced Hybrid system that provides drivers with responsive power offers optimal performance combined with top efficiency.
Thanks o cutting-edge research and development, Mitsubishi's cars stand out in the industry.
Where can you sell your junk car for the most money?
If you're looking to get the most money out of your old, used or wrecked Mitsubishi car in Chicago, then Grand Cash 4 Junk Cars is the place to go.
We have been providing cash for cars for many years, and specialize in making sure our customers are able to get the best possible price for their vehicle.
When you sell us your Mitsubishi car, we will provide free pickup and towing services from your location.
If you're ready to sell your junk car for the most money, follow these steps:
1. Call us or visit the website.
Call us at (773) 410-2135 or fill out our online form on the website to get a free quote. Make sure to provide essential information about your car, including the year, make, model, mileage, and condition.
By having this information, we can offer you the highest price for your old car.
2. Schedule the pick-up service.
Once you've received your quote, we'll arrange a convenient time for our tow truck to come and pick up your vehicle.
3. Get paid on the spot!
Our driver will arrive at the scheduled time and give you cash on the spot for your junk car. That's all there is to it!
We strive to make selling your Mitsubishi simple and stress-free as possible. So don't hesitate – contact us today to get an offer!
How much is your old car worth in Illinois?
The average price for old and used cars in Illinois is from $50 to $3000. The value of your old Mitsubishi vehicle depends on a variety of factors, such as:
The year, make, and model.
Mileage.
Internal and external conditions.
Location of the car.
Missing parts.
Working parts.
Here at our company, we provide our customers with the most accurate quotes possible.
We take all these things into account when calculating the value of your car so that you can get the best price for it in Chicago.
Get in touch for more information.
What paperwork do you need to get rid of your damaged car?
When you are ready to sell your damaged car, it is important to have all the necessary paperwork on hand. Generally, you will need the following documents:
* The vehicle's title with your name as the legal owner
* A valid ID
* Proof of insurance
* Your vehicle registration
Having these documents handy will make sure that the whole process runs smoothly and quickly.
In some cases, we may also require additional paperwork depending on the specific situation.
So be sure to check with us first before bringing your car in so that we can provide more information if needed.
Can you sell a wrecked car without its title?
Yes, you can!
In most cases, you don't need the title to be able to sell a wrecked car. However, it is important to note that the ownership needs to be transferred in order for the sale of your vehicle to take place.
In this case, you will need to provide us with a valid ID along with proof of insurance and your vehicle registration as evidence that you are indeed the legal owner of the car.
Once we have these documents, we can then proceed with transferring ownership so that you can get cash for your car in Illinois.
Can you sell more than one car?
Yes, you can. We offer our cash for cars services to anyone who needs to sell more than one vehicle.
Whether you have several vehicles that are no longer running or you just want to get rid of a few old cars, we can offer you unbeatable deals on each of them.
Plus, we'll take care of all the paperwork and even come to your location to tow your vehicles for free.
We'll make sure you get the best price for all your unwanted cars near Chicago, Illinois. Contact us today and let us turn those clunkers into cash!
Get rid of your unwanted Mitsubishi and get cash for it today!
Getting rid of an unwanted Mitsubishi doesn't have to be complicated or stressful.
With our cash for cars program, you can get the most money for your old car with minimal effort.
All it takes is a quick call or online form submission and we'll take care of everything else – from paperwork to pick-up service and even payment on the spot!
We make sure that all factors are taken into consideration when calculating the value of your vehicle so that you know you're getting top dollar in Chicago, Illinois.
We're interested in buying all Mitsubishi models, including:
Mitsubishi Carisma
Mitsubishi Celeste
Mitsubishi Challenger
Mitsubishi Champ
Mitsubishi Chariot
Mitsubishi Colt
Mitsubishi Colt 11-F
Mitsubishi Colt 600 .
Call us (773) 410-2135 right away and get the best price for your useless car!