Grand Cash 4 Junk Cars 773-410-2135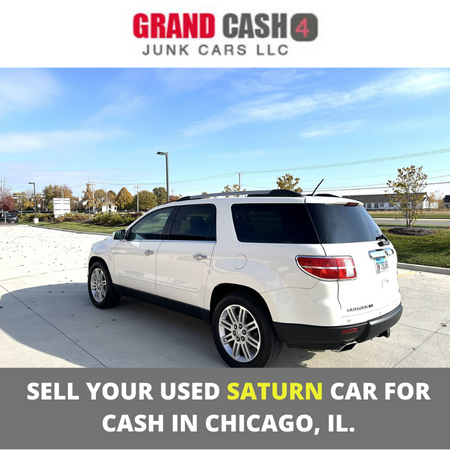 If you're looking to sell used Saturn cars and make some extra cash, Grand Cash 4 Junk Cars is the place to do it.
Our experienced team of junk car buyers will make sure you get a fair price for your vehicle. We provide fast, hassle-free service so you can quickly convert your old car into cash.
No matter what condition your vehicle is in, we are ready to buy it and pay cash on the spot.
If you live in or around Chicago, IL, contact us today and we'll arrange the pickup service at a time that works for you.
We work with all types of Saturn cars from any model year – whether it's an Ion, Vue, Astra, Outlook or Sky – we'd love to take it off your hands!
Contact us to learn more information about our services.
Saturn Corporation – Automobile manufacturer.
Founded in 1985, Saturn Corporation quickly made a name for itself as one of the world's leading automakers.
Their mission was to provide dynamic and efficient transportation solutions, and they delivered on their promise by creating reliable and affordable cars.
Saturn vehicles incorporated style and technology into their designs while remaining practical and fun. They earned the praise of customers, industry experts and automotive enthusiasts alike.
The most popular model from Saturn was the S Series, which included 5 models from 1991 to 2002. This series of cars offered several standard features, including front airbags, power mirrors and locks, as well as adjustable seats.
The dependability of the S Series vehicles propelled Saturn's good reputation with car buyers.
Although nearly 20 years have passed since Saturn closed its doors in 2010, the legacy of its innovation continues to influence the industry today.
Who will pay you cash for your old car?
Grand Cash 4 Junk Cars is the answer! We are a reliable company that has been in the business of buying used cars for cash for many years.
No matter what condition your Saturn is in, we will offer you top dollar and excellent services when it comes to selling your vehicle and getting cash fast.
We make the process quick and easy by offering free towing from anywhere in Chicago or its surrounding areas. Including:
South Side.
Orland Park.
Maywood.
Chicago.
Evanston.
Tinley Park.
Skokie.
Calumet.
Oak Lawn.
Cicero.
Englewood.
Dolton.
Evergreen Park.
Thanks to our convenient location near Chicago, we can quickly appraise and buy your vehicle the same day you contact us.
You'll get the best price for your old car, regardless of its condition. Give us a call today for a free quote for your car!
How to sell your damaged car for the most money near Chicago?
If you have a damaged Saturn car that you would like to sell for cash, our Cash for Cars service is perfect for you.
We specialize in buying used cars with mechanical issues, body damage or any other types of repairs needed.
Follow these easy steps to get started:
1. Contact us by phone or online.
Get a free, no-obligation quote for your car by calling us at (773) 410-2135 or filling out the online form on our website.
Simply provide details about your vehicle such as its year, make, model and mileage to get an unbeatable offer from us!
2. Schedule the pickup service.
After you accept our generous offer, we'll arrange a time for one of our tow truck drivers to arrive at your specified location and pick up the car.
3. Get cash on the spot!
Once our experts inspect the vehicle, you will get paid cash on the spot.
No waiting for checks in the mail or bank transfers – just fast and secure payment right away.
With this service, you can rest assured that you'll receive a fair price for your vehicle.
If you need cash, contact us today and we will arrange a pickup time that works best for your schedule.
What paperwork is required to get cash for a junk car?
Selling your junk Saturn car for cash can be a quick and easy process as long as you have all the necessary paperwork.
All you need is these following documents:
Your driver license.
Registration of your car.
Title of your car.
Proof of insurance.
With all the necessary documents in hand, you can now take the next step and sell your old car!
What if you don't have the title of your car? Can you still sell it?
Yes, you can! Even if you don't have the title of your car, we can still buy it from you.
We know that not everyone has the title to their vehicle and may need help when selling their old cars.
Don't worry, all you need is a driver license, proof of insurance, and registration for us to buy your Saturn without problem!
Get in touch for a free quote on your junk car and get cash in hand quickly!
How much is your used car worth?
The average price for used cars in Chicago is between $50 and $3000. The worth of a used Saturn car depends on many factors:
The year, make, and model.
Mileage.
Internal and external conditions.
Missing parts.
Working parts.
Our experienced appraisers will accurately determine the worth of your vehicle based on these factors.
Here at our company, we always offer the most competitive prices for used cars in Chicago.
Get fast cash for your damaged Saturn car!
If you need fast cash for your damaged Saturn car, we understand. That's why our Cash for Cars service offers hassle-free appraisals and quick payments – no matter what condition your vehicle is in.
We'll assess the value of your car and provide you with a fair offer that you can accept or reject.
And if you accept, we will arrange a time to pick up the vehicle and provide you with cash on the spot!
We pay cash for any Saturn model, including:
Saturn S-Series
Saturn Vue
Saturn Aura
Saturn Ion
Saturn L-Series
Saturn Outlook
Saturn Relay
Saturn Sky
And more!
Call us (773) 410-2135 today to start selling your used car quickly and easily!