Grand Cash 4 Junk Cars 773-410-2135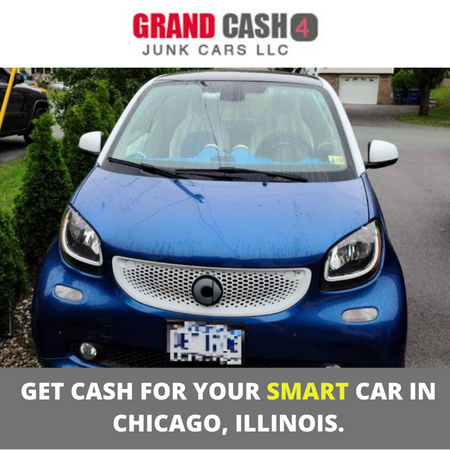 If you're looking to get the most cash for your Smart in Chicago, Grand Cash 4 Junk Cars is your best choice!
We're well-known junk car buyers in Illinois who have built a solid reputation for providing the most competitive rates in the Chicago area.
We don't just buy cars, we also offer free towing services to make sure you get your car removed as quickly and safely as possible.
It doesn't matter if your vehicle is old, damaged, flooded, and even totaled, we'll pay cash for it!
Whether your Smart car is running or not, our team will give you a fair estimate that takes into account its age, mileage, and condition.
Our goal is to ensure that you get the cash you need for your Smart car without any hassle or stress. Call us now!
Smart – Automobile company.
Smart is an innovative automobile company, renowned for its urban two-seater cars.
Manufactured by Mercedes-Benz, Smart vehicles are distinguished by unique design features such as the tall cabin, steel safety cell and interchangeable body panels.
These models combine style and performance to make them ideal for those living in big cities or looking for a fun way to get around town.
The company takes pride in crafting green cars with advanced technology such as low emissions engines and fuel efficient motors.
Two of the most popular models are the Smart EQ ForTwo Coupe and Cabrio; both come packed with interesting features such as electric motors, regenerative braking systems and advanced navigation systems.
Best of all, they are environmentally friendly, making them an interesting option for those looking to reduce their carbon footprint.
What's the best way to get rid of your old car for cash in Chicago?
The best way to get rid of your Smart car for cash in Chicago is to sell it by using our Cash for Cars service. This service is your go-to source for getting top dollar for your old vehicle.
We specialize in buying cars of all kinds, and even offer free, same-day pickup services throughout the city.
So, if you're ready to get rid of your old car for cash, follow these simple steps:
1 .Get an offer.
Contact us by calling (773) 410-2135 or filling out the online form on our website. All you need is some basic information about your vehicle, like its make, model, year and mileage.
Then, we will give you the best offer for your car based on that information.
2. Accept the offer and schedule the pickup.
Once you accept our offer, we will schedule a free pick-up at the agreed time and place.
3. Get paid.
On the day of pickup, we will inspect your car to confirm the condition matches what you told us about it. Then, they will pay you in cash on the spot!
And that's it! Our team will come out to pick up your Smart car at no extra cost and hand over payment.
So don't wait any longer, get rid of your old car for cash now!
What paperwork is required to sell a used car?
When selling a used car, there are certain documents that must be provided to complete the transaction.
So, make sure to provide the following documents:
Proof of insurance.
Your driver license.
Registration of the car.
The title of your car.
These documents help ensure that you comply with all state laws when selling a used car in Chicago.
Do we buy junk cars without their titles?
Yes, we do! We can buy junk cars even if they don't have a title.
However, we do require proof of ownership in order to purchase any vehicle. This can be in the form of an original registration document, proof of insurance, and your driver license.
So, we can prove you are the owner of the junk car. Give us a call even if you don't have your car's title!
How much can you get paid for your damaged Smart?
We take into account different factors before offering a price for your Smart. This includes:
The year, make, and model.
Mileage.
Internal and external conditions.
Missing parts.
Working parts.
We know that you need cash fast, so our team is dedicated to giving you a great price that's based on those factors.
We also consider the average price for damaged cars in Chicago, which is from $50 to $3000.
We also use our years of experience with Smart cars to ensure that you get the most money for your vehicle.
Can you sell a Smart car with missing parts?
Yes, you can! We can still buy your Smart car even if it is missing parts.
We understand that cars may be in poor condition when they are brought to us and that it is not always possible to find replacements for missing parts.
Therefore, we will evaluate the car and make a cash offer based on its condition and the details provided by you. We'll take into account any missing components when making an offer for your vehicle.
What if you have more than one car?
We specialize in buying multiple cars of all kinds, so don't worry if you have more than one car to sell.
You can contact us and provide basic information about each vehicle you want to sell. We will then make a cash offer for the cars separately or together.
With our Cash for Cars service, it's quick and easy to get rid of your vehicles without hassle!
Does Cash for Cars buy electric and hybrid cars?
Yes, we do! We are happy to buy electric and hybrid vehicles from our customers.
Electric and hybrid cars have been gaining popularity due to their low emissions and fuel efficiency.
We understand that you want to get the best price for your electric or hybrid car, and we will ensure that you get the most money out of it.
So, if you're looking to sell your electric or hybrid vehicle, don't hesitate to contact us!
Call us now and get paid for your damaged Smart car!
Selling your used or damaged Smart car doesn't have to be a stressful process. We are here to help you out!
With our fast and easy service, we can take care of the paperwork required and make sure that you get paid in cash on the spot.
We buy any Smart model, including the following:
Smart Roadster Coupe.
Smart Forfour.
Smart Fortwo.
Smart Fortwo Coupé
Smart Electric Drive.
And more!
Now what are you waiting for? Call us (773) 410-2135 now and get cash for your unwanted car!