Grand Cash 4 Junk Cars 773-410-2135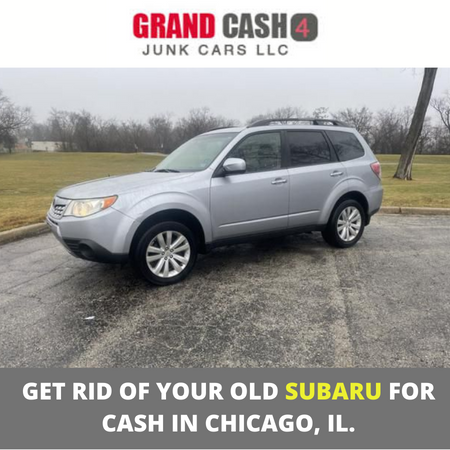 If you're trying to get rid of your old Subaru for cash in Chicago, Grand Cash 4 Junk Cars makes it easy to get money for your old Subaru in this great city.
We're a reliable junk car buyer in Chicago that will work with you to ensure the best possible price and experience when selling your car.
With our hassle-free process, you can be sure that selling your Subaru has never been so easy!
All you need to do is contact us, provide some basic information and we'll give you a free quote on your Subaru in minutes!
At our company, we are committed to providing a fast and easy process when selling your old Subaru for cash in Chicago. Contact us today for more information!
Subaru – Automobile manufacturer.
Subaru is one of the most recognized brands in the world when it comes to environmentally friendly and reliable automobiles.
Founded in 1953, it has grown to become the 21st largest automaker in the world.
Subaru's range includes a wide variety of cars and SUVs, from the entry-level Impreza to the luxurious Outback and Ascent.
All of these vehicles come standard with Subaru's outstanding Symmetrical AWD system, which allows drivers to maintain confidence in any road condition, whether it's a snow-covered road or a windy mountain pass.
Subaru's renowned quality and safety factor has made them a favorite of many automotive enthusiasts in the United States and around the world who appreciate their commitment to providing reliable vehicles.
Who will buy your non-running car for cash near Chicago?
At Grand Cash 4 Junk Cars, we buy non-running cars for cash near Chicago.
We've been junk car buyers for many years in all of Illinois, including the Chicago area.
No matter the make or model, we'll buy your car for cash and take it off your hands quickly and easily.
We understand that trying to sell a non-running vehicle can be difficult and time consuming, which is why we work hard to provide an easy solution.
We offer a simple and straightforward Cash for Cars service that allows you to get the best price for your non-running or unwanted vehicle in no time.
Our team of experienced car buyers will come to your location and give you cash on the spot.
We even offer free towing for SUVs, cars, vans, and trucks!
So, if you're looking for someone who will buy your non-running car for cash near Chicago, look no further than us!
How do you sell a junk car for cash?
Selling a junk car for cash is easier than you think. With our service, you can get cash for your junk car in Chicago and the surrounding areas.
1. Contact us by phone or online.
The first step is to contact us by calling us at (773) 410-2135 or filling out our online form, and provide some basic information about your vehicle. We'll need to know the year, make, model, and condition of your car so that we can give you an accurate quote.
2. Schedule the pickup service.
Once you accept our quote, we will schedule a convenient time to pick up your vehicle from its current location.
3. Get cash!
When our team arrives with the tow truck, all you have to do is sign over the title and get your cash payment! It's that easy!
We will take care of the rest, including paperwork and free towing.
So, if you're looking for a simple way to sell your junk car for cash in Chicago, we can help! Call us right away to get started.
What paperwork is required to sell your used Subaru?
When selling your used Subaru, you will need to have certain paperwork in order. This includes
The title of your car.
Proof of insurance.
Registration of the car.
Your driver license.
By having all of these documents in order, you'll be able to sell your old vehicle without problem.
What to do if you don't have the title of your car?
You can still sell it! If you don't have the title of your car, we can help.
We will need to verify that you are the rightful owner of the vehicle and, therefore, we will need certain documentation before we can make the purchase.
This includes proof of ownership such as your driver license, registration of the car, proof of insurance or other documents that demonstrate that you legally own the vehicle.
Once this is done, we'll be able to move forward with the process and give you cash for it.
If you're looking to sell your old Subaru for cash in Chicago and don't have the title, contact us today!
How much can you get for your damaged car in Chicago?
The average price for damaged cars in Chicago is from $50 to $3000. However, the price of your vehicle will depend on several factors. Including:
The year, make, and model.
Mileage.
Internal and external conditions.
Missing parts.
Working parts.
We do our best to provide a fair price for all vehicles that we purchase. Our team of experienced buyers will assess the condition of your vehicle and offer you a competitive quote.
Stop holding on to that useless old car and sell it for as much money as possible.
Selling your used or non-running car can be an easy and stress-free process when you work with the right company.
Our Cash for Cars service offers a simple way to get cash on the spot for your vehicle in just a few hours, including free towing!
With our experienced team of car buyers, we guarantee that you'll get the best price possible for your damaged or unwanted car near Chicago.
We pay cash for any make and model, regardless of its condition. That's why we're so interested in buying all Subaru models, for example:
Subaru Outback.
Subaru Impreza.
Subaru Brat.
Subaru Forester.
Subaru SVX.
Subaru Legacy LS.
And more!
So, don't wait any longer, give us a call (773) 410-2135 today and let us help you turn that old clunker into fast cash!