Grand Cash 4 Junk Cars 773-410-2135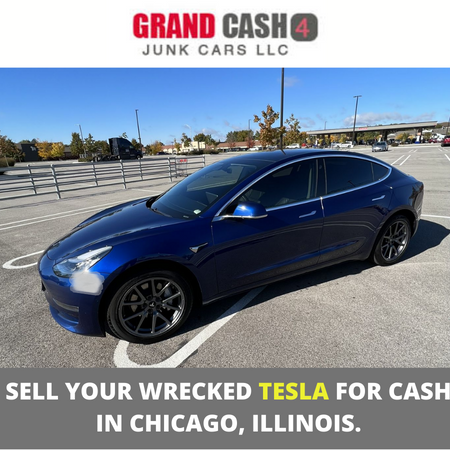 Have you been involved in a traffic accident involving your Tesla? Do you want to get rid of it and get cash in return? Then look no further than Grand Cash 4 Junk Cars.
We are the best junk car buyer in this great city, and we offer the best price for a wrecked Tesla vehicle in all of Illinois!
We know that dealing with a damaged vehicle can be stressful. That's why we strive to make the process as stress-free as possible.
All you have to do is fill out our online form or give us a call, and one of our representatives will provide you with an instant offer for your Tesla.
With our free pickup service available throughout Chicago, selling your wrecked Tesla has never been this easy.
Get in touch s for more information.
Tesla – Artificial intelligence company.
Tesla is an artificial intelligence (AI) company that has been advancing the world of technology with its unique approach to innovation.
Founded by Elon Musk, Tesla has revolutionized the way people think about energy and transportation.
Tesla's mission is to accelerate the world's transition to sustainable energy. To do this, they have been developing advanced electric vehicles, solar products, and energy storage solutions for homes and businesses.
Tesla has a wide range of products that are designed with superior engineering and materials, from the Model S to the new Cybertruck.
They also provide software updates for their vehicles that enhance performance, safety, and autopilot features.
With Tesla's commitment to innovation and their dedication to making the world a better place, they have been creating some of the most advanced vehicles and energy solutions in the world.
Where to sell your junk car for cash in Chicago?
If you are looking for the best place to sell your junk car for cash in Chicago, Grand Cash 4 Junk Cars is the perfect choice.
We specialize in the purchase of all types of cars, including those damaged by accident or wear and tear
We offer a quick and easy process that will get you cash in hand fast the same day you contact us.
As a reliable junk car buyer in Illinois with many years of experience, we know how to offer the best prices for any type of cars in any condition.
Whether your Tesla is wrecked, totaled, flooded or broken-down, we are more than happy to take it off your hands and pay you top dollar for it.
We guarantee a fast and hassle-free experience with the highest offers in town. And we even provide free towing service!
So, if you're looking to get rid of your old, damaged car in the Chicago area, contact us today!
How to get cash for your old car?
Are you ready to get rid of your old, damaged car and make some cash? We offer the best Cash for Cars services in Chicago.
Our process is simple and fast, follow these steps to get started:
1. Contact us and get a free quote.
Call us at (773) 410-2135 or fill out our online form to get a free quote for your car. Provide basic information about your vehicle, such as the year, make, model, mileage, and condition.
With all this information, we will be able to make you an excellent offer for your Tesla.
2. Schedule the pickup service.
After you accept our offer, we will schedule a convenient time and place for the pickup. All you have to do is wait, we will take care of the rest!
3. Get paid!
On the day of pickup, we will come with all the necessary paperwork and pay you cash on the spot.
And that's it! We will take care of everything and you will get fast cash for your old Tesla!
What paperwork do you need to sell your used car?
When selling your used car, it is important to make sure that you have all the necessary paperwork. Here are the documents that you will need when selling your Tesla:
1. Title of the car
2. Proof of insurance
3. Your driver license.
4. Registration of the car.
Now that you have all of the required papers, it's time to sell it for the most money!
Do we pay cash for damaged cars without their titles?
Yes, we do! Here at our company, we understand that sometimes it is difficult to find the title of your damaged car. That's why we offer cash for cars without titles in Chicago.
To ensure a secure transaction, we will ask you for some documents proving that you are the legal owner of the car.
So, make sure to provide your driver license, registration of the car, and proof of insurance. Then, you will be able to get fast cash on the spot.
So don't worry if you can't find the title of your car, we got it covered!
How much can you get paid for your old car?
The average price for old cars in Chicago is between $50and $3000. The amount of money you can get for your old car depends on many factors, such as:
The year, make, and model
Mileage.
Internal and external conditions.
Missing parts.
Working parts.
Location of the car.
We strive to provide all our customers with fair and honest offers that reflect the true value of their cars. We guarantee that you will be more than satisfied with our offers.
Contact us now for a free quote!
Why are we the best option to sell your unwanted car?
Unlike other junk car buyers, we guarantee:
Fast payment with cash in hand on the spot.
Free pick up service anywhere in the city.
Honest offers based on the condition and value of your car.
We will make sure that you get the highest price.
No hidden charges or additional costs of any kind.
Friendly customer service team available 24/7 for any questions or concerns you may have about selling your car.
In addition, we buy all Tesla models, including:
Tesla Model S 2021.
Tesla Model X 2021.
Tesla Model 3 2016.
Tesla Model Y 2017.
And more!
So, if you're looking to get rid of your unwanted vehicle without any hassles, call us (773) 410-2135 today!