Grand Cash 4 Junk Cars 773-410-2135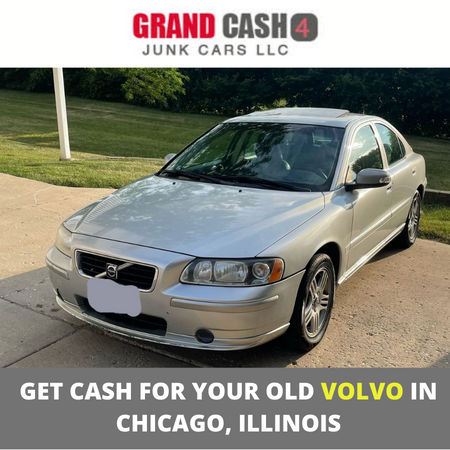 Getting cash for your old Volvo in Chicago is easy with the help of a reputable junk car buyer like Grand Cash 4 Junk Cars.
We make the entire process smooth and hassle-free. Our team professionals will help you get the most out of your vehicle, regardless of its condition or mileage.
We will provide you with an excellent quote, pay cash on the spot and arrange to pick up your car immediately.
Whether you have an older sedan, coupe, wagon or SUV, our experts will quickly evaluate it and make you a competitive offer for your Volvo.
Contact us to learn more about how we can get top dollar for your old car!
Volvo Cars – Luxury vehicles company.
Founded in 1927, Volvo Cars is a Swedish company that manufactures luxurious cars and SUVs known for their excellent performance and reliability.
They recently launched their XC40 Recharge, which shows their focus on developing safe, attractive and more efficient electric cars.
Volvo's interiors boast comfort and style with sleek Scandinavian designs combined with luxurious amenities such as heated seats, Apple CarPlay integration, panoramic sunroof and advanced driver assistance technology.
Many Volvo cars have won awards for their sophisticated styling, fuel efficiency and generous list of features.
With models such as the XC90, S60, and V90, Volvo Cars provide comfort for any situation.
With their iconic styling, modern technology and legendary reliability, it's no wonder Volvo cars are becoming increasingly popular around the world.
Who pays cash for damaged cars near me in Chicago?
Grand Cash 4 Junk Cars is a highly reputable junk car buyer in Chicago that offers fast cash for damaged cars.
Our experienced professionals are knowledgeable about the current market value of all makes and models of vehicles, including Volvo cars.
We will provide you with a competitive offer based on the year, make, model, condition, and mileage of your car.
No matter what condition your car is in, whether it has been in an accident or simply needs irreparable repairs, we will buy it for you!
Not only will we provide cash for these cars, but we are committed to providing an exceptional customer service experience to ensure a hassle and worry free process.
Plus, we make it easy by coming to you with cash in hand and providing free tow away service anywhere in the Chicago area.
Additionally, we will handle all paperwork involved in transferring ownership.
South Side.
Orland Park.
Maywood.
Chicago.
Evanston.
Tinley Park.
Skokie.
Calumet.
Oak Lawn.
Cicero.
Englewood.
Dolton.
Evergreen Park.
And if you're located in another city, we also serve at:
So, don't wait to call us right away to get top dollar for your damaged or used Volvo!
What's the best way to get cash for your junk car?
The best way to get cash for your junk car is to use our reliable Cash for Cars service. We will make sure that you get the most out of your vehicle!
Our services are quick and convenient. Follow these easy steps to get started:
1. Get a free quote.
Call us at (773) 410-2135 or fill out our online form on our website, and tell us some details about your vehicle, including the year, make, model, mileage, and condition
Then, we'll give you a free quote based on this information.
2. Arrange the pickup.
Once you accept the quote, we'll arrange a convenient time and place to pick up your car.
3. Get paid.
Our friendly team of professionals will arrive with cash in hand ready to pay you on the spot.
We will take care of all the paperwork and get any necessary signatures from you. After that, we'll tow away your vehicle and pay you cash on the spot!
Contact us and start selling your junk Volvo for the most money.
How much is your old Volvo near Chicago?
The average price for old cars in or near Chicago is from $50 to $3000. However, the value of your old Volvo near Chicago will depend on some factors, such as:
The year, make, and model.
Mileage.
Internal and external conditions.
Location of the car.
Missing parts.
Working parts.
Our experienced team knows current market values and can accurately assess the value of your car.
We know that getting top dollar for your car is important to you, so we do our best to ensure you get a fair price for it.
Call us today to learn more about how much money you can get for your old car!
What paperwork is required to sell your used car?
When selling your used car, you will need to provide the buyer with certain paperwork. This includes:
The title of your car.
Proof of insurance.
Your driver license.
Registration of the car.
Once all these documents have been gathered, you're ready to sell your used car without problems.
Can you get cash for your damaged car without its title?
Yes, you can get money for your damaged car even if you don't have the title.
All you need to do is provide us with proof of ownership such as the registration, your driver license, and proof of insurance.
We know it can be difficult to get these documents, so we are willing to work with you to find an acceptable solution that works for everyone.
Our team will guide you through the process and provide you with all the assistance you need to make your transaction run smoothly.
How long do older Volvos last?
Older Volvos can last for decades if properly maintained and serviced. The average lifespan of a Volvo is about 10-15 years, but with proper care, the life expectancy can be significantly extended to 20 years or up to 200,000 miles.
Are older Volvos expensive to repair?
Yes, they are. Although, compared to other luxury car brands, Volvos are more affordable in terms of maintenance costs, it is still a car brand with a high cost of repairs and maintenance. The repair costs may vary depending on the age, make and model of the car.
Older Volvo's typically require more repairs because they have more complex mechanical components that need to be replaced or repaired.
Overall, the cost of repairing an older Volvo can range from hundreds to thousands of dollars depending on the type of repairs needed.
In case you cannot afford these costly maintenance and repairs, the best option is to sell it for cash.
Fast, easy, and safe! Get cash for your unwanted car now.
Selling your older Volvo for cash is a great way to make some extra money and avoid costly repairs.
We offer fair prices for your old Volvo and will provide you with a fast, easy and safe way to sell it.
It can be difficult to get the necessary paperwork, but our experienced team will guide you through the process and provide all the assistance needed.
Our friendly professionals are ready to help you get top dollar for your used vehicle – no matter its condition or age! Plus, we provide free towing service.
We buy any Volvo model, including:
Volvo P1900
Volvo P1800 + 1800ES
Volvo 245 Turbo.
Volvo 262C
Volvo C3-series
Volvo Duett
And more!
So, if you're looking for an easy solution to sell your old car without any hassle, call us at (773) 410-2135 as soon as possible!